Hello! Continuing the Best of Books series, here are some fiction books I liked in the last year.
Mistborn – Eras 1 and 2 — Brandon Sanderson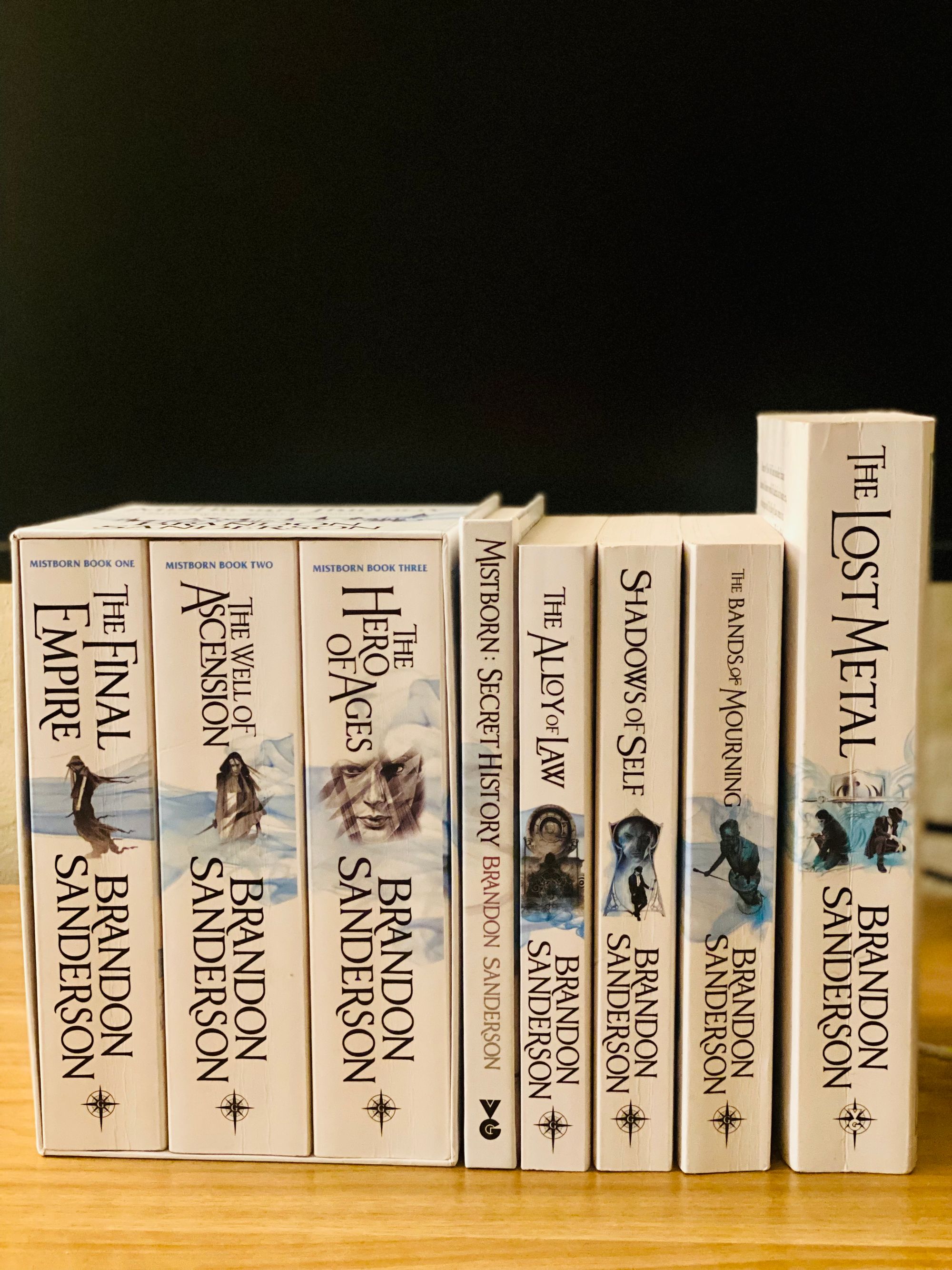 Fantasy is around 80% of what I read. Once I read Elantris, Brandon Sanderson became my instant favorite. I started the Mistborn series, one of Sanderson's earlier works of his career, with the last book of the series coming the previous year. The Mistborn Series has seven books and a novella split into two eras.
A magic system is the lifeline of a fantasy novel/series, and Mistborn has an amazing one. It's called Allomancy, which is about manipulating the forces of nature with metals. This is all I can say without spoiling it for anyone, and the entire series revolves around this magic system.
I started with Era 1, read the novella, and finished with Era 2. Sanderson is a master at world-, plot-, and character-building. With intricate plots, a complex magic system, twists and turns, and memorable characters, I gobbled up the Mistborn series. I was so invested in the series that I finished 700+ pages of books each in 10-15 days. I never knew I could read with such a pace, full credit to Sanderson's writing. Era 1 was brilliant, grand, and eventful, while Era 2 was witty and fun. I enjoyed Era 1 more than Era 2, but Wayne from Era 2 quickly became one of my favorite fantasy characters. I loved how Era 1 was tied into Era 2.
I have to mention Cosmere here. Cosmere is a fantasy universe created by Sanderson in his books, and most of his books happen inside this universe. There are other series and standalone novels by Sanderson which share the same universe, and I can't wait to see how various elements and stories of this universe come together in his future books.
It's a conscious decision to keep my thoughts superficial on the content of the books, as it's very easy to spoil the plot and the joy of reading Mistborn for the first time. So, if fantasy is your thing and you haven't read Sanderson, I can't recommend his work highly enough.
Ponniyin Selvan — Kalki Krishnamoorthy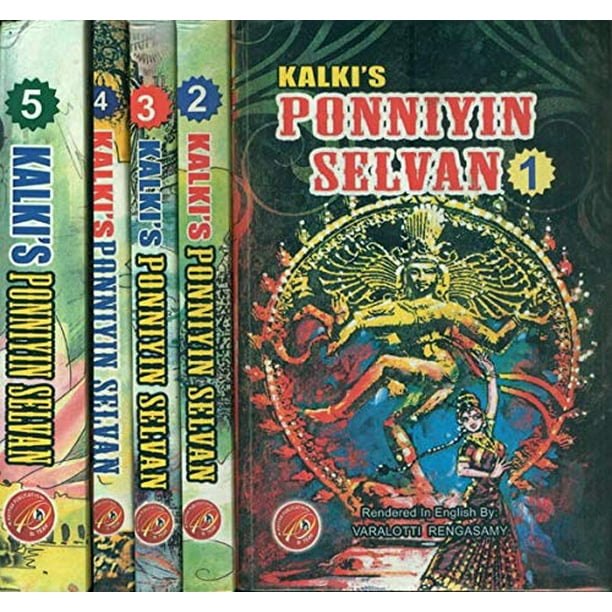 Ponniyin Selvan is a Tamil Novel series written by Kalki Krishnamurthy, that was serialized in weekly editions of a Tamil magazine from 1950 - 1954. They were later compiled into five books. The book is about the Chola Dynasty who ruled the present Indian state of Tamil Nadu around 1000 AD. The story depicts the early life of real-life ancient King Arulmozhi Varman (who would later become King Raja Raja Chola) and his family but with a fictional plot with different characters.
Arulmozhi's father (the king) is sick and the plot revolves around his heirs and his kingdom to find out who would be his successor. The novel series has multiple characters intertwined into a complex plot filled with enthusiasm, love, greed, patriotism, war, and much more. I listened to the audiobook version of the novels in Tamil, and it has been translated into English as well. This series is a good peek into ancient Indian culture, politics, and traditions.
A Man Called Ove — Fredrik Backman
Ove is a grumpy old man in Sweden, living alone and mourning his wife, the love of his life, who has recently died. He is unable to live without her and decides to end his life. Multiple attempts to end his life are constantly interrupted by something. He is frustrated, always grumpy, hates everyone in his neighborhood, and leads a life with little tolerance or patience. His life takes a turn when an Iranian family moves next door with their two little daughters. He starts to become less grumpy and starts loving his life, his neighbors, and his community. His community who saw him as a grumpy old man starts to see the good side of him. After all, he realizes that he's got a lot of love in him. It is a heartwarming story of love, friendship, neighborhood, and community. The novel was written in Swedish and translated into English. Go for this if you're up for a feel-good book.
The Martian — Andy Weir
The Martian is a 2011 novel by Andy Weir, who is the author of my favorite sci-fi novel, Project Hail Mary. It's about an astronaut who is stuck on Mars and has to wait years to get help. It's a story of science fiction, humor, and perseverance brilliantly written in an accessible way. I'm sure many of us have watched the movie adaptation, and I liked the book better. Our protagonist is stuck on Mars and has to find ways to survive in the harsh Martian atmosphere and landscape where nothing is suitable for humans. Saying anything much will spoil the book, but it's an easy science fiction read for anyone who wants to get into science fiction.
Norwegian Wood — Haruki Murakami
Toru Watanabe is a college student who is majoring in drama for no reason. He lost his best friend Kizuki who took his own life a couple of years ago and is still grieving. He is also friends with Kizuki's then-girlfriend Naoko. Kizuki's death has left a lasting psychological effect on both Toru and Naoko. After a while, they fall in unprofessed love with each other. Naoko's condition worsens and she gets into a psychological rehabilitation facility to receive treatments.
While Naoko is in the facility, Toru meets Midori Kobayashi, a young, outgoing woman at his university. They grow to like each other but Toru is hesitant to pursue this relationship thinking about Naoko and her struggles with mental health. As Naoko's condition worsens, he visits her in the facility and the rest of the story takes us through the journey of their lives. Set in 1960s Tokyo, Norwegian Wood is a book about love, friendship, heartbreak, and mental health blended with 60s culture where Westernization was a big thing. I've read two of Murakami's books and both of them have a certain vibe that I like, intertwined with brilliant writing.
Those are the fiction books I enjoyed in the last year. Here's my Goodreads profile, where I capture my reading journey regularly. Click here to access the other blog posts in the Best of Books series. Thanks for reading. Cheers!