Hello! This week marked my 365 days of reading every day. I wanted to cultivate the habit of reading as part of my lifestyle, and after a year, I enjoyed the habit more than the content. To anyone looking to develop reading as a habit and make it a lifestyle choice, the key is to read what you genuinely enjoy and not read what everybody reads. There are no rules. Finding the right book and genre you like is the trickiest part; once you've done that, the habit takes care of itself. If you're already a reader, here are some more book recommendations. This blog post is the second one in the "Best of Books" series, where I list the books I read and liked.
Non-Fiction
Greenlights
Greenlights by Matthew McConaughey is a light-hearted autobiography — as a student, a teenager, an adult, a son, and an actor. The whole book has a country vibe, with life in the southern states of America. It is funny, quirky, and engaging. Most of us know and like McConaughey's breezy, easy-going, and light personality. However, there's a lot more to him, and he offers some valuable insights to readers from all walks of life. The book provides an up-close and personal account of his early life, upbringing, acting career, and family. The book's core idea is for us to look for "Greenlights" in our lives, which are positive signals that keep telling us where our lives are heading. McConaughey also shows the readers how they can turn an unfavorable situation (a red light, if you will) into "Greenlights" through the experiences in his life. A red light becomes green if one can take its lessons and move on. It is one of the easiest autobiographies I've ever consumed, and I would strongly recommend listening to the audiobook, with his sweet southern accent and country-boy voice. You'll never know how the 6 hours go. Keep on Livin'.
Man's Search for Meaning
Man's Search for Meaning by Viktor E. Frankl is a heartbreaking memoir by a holocaust survivor and a psychotherapist during the Second World War. The book is divided into two parts. The first part gives excruciating details about the lives of prisoners in the Auschwitz concentration camp run by Nazi Germany in Poland, right from their entry into the camp, and the details of suffering the prisoners endured until their release from the camps. It was painful to read, and it is difficult for us to fathom the distress that they went through.
The second part focuses on Dr. Frankl's theory called Logotherapy, where he argues that we cannot avoid suffering, but we can choose how to cope with it, find meaning in it, and move forward with renewed purpose. The heart of his theory is a conviction that the primary human drive is not pleasure but the pursuit of what we find meaningful. Man's Search for Meaning has become one of the most influential books in America; it continues to inspire us all to find significance in the very act of living. Here's a quote from his book — "Everything can be taken from a man but one thing: the last of the human freedoms—to choose one's attitude in a given set of circumstances, to choose one's own way."
Self Control — Its Kingship and Majesty
Self Control — Its Kingship and Majesty by William George Jordan was first published in 1899. It is about more than just self-control; I see it as a book of moral values. Everybody should have a moral compass, and I would gladly take this book as mine. I confide in this book for guidance when I feel down or something seems to be going wrong with my actions. It talks about self-control, confidence, self-reliance, honesty, self-esteem, and much more. It amazes me how the values and issues discussed in this book are still relevant today, after around 120 years.
How to Win Friends and Influence People
How to Win Friends and Influence People by Dale Carnegie was published in 1936. It is one of the best self-help books anyone could pick up. The book contains timeless wisdom on handling people and developing interpersonal skills. Interacting with people is one of the most important skills anyone could have in their arsenal, and this book is an excellent guide on how to deal with several aspects of it, including criticism, praise, putting ourselves in other's positions, being understanding, being empathetic, and so on.
The topics and lessons put forth in this book can be misunderstood for people-pleasing, but one must understand that all the guidance in this book should be followed with sincerity and in true spirits. For example, one of the most critical lessons in this book is —  "Praise the slightest improvement and praise every improvement. Be hearty in your approbation and lavish in your praise". It can be misused as a way to manipulate someone into doing something or winning their approval, but we should do it with utmost sincerity and with the true intention of praising someone's improvements. Many of the principles in this book are still relevant, and I have noticed many people I admire have these qualities in them.
I Will Teach You To Be Rich
I Will Teach You To Be Rich by Ramit Sethi is one of the best personal finance books I've ever read. This book focuses on how to make better financial decisions in our daily lives and reach financial freedom. Here's what to expect from the book:
Insights on how to tackle different kinds of debt.
A list of actionable steps to better plan our daily (or monthly) finances.
This book doesn't rely on tedious budgeting or being frugal as one would typically expect from a personal finance book. Instead, it talks about making money management run on autopilot with minimal intervention and spending freely on what we want.
Establish systems and processes to manage our finances so that we don't have to worry daily about where our money goes or comes from.
Helpful insights on how to think about money.
The importance of saving and what's the best way to save money.
It helps clear some taboos around money and investing.
You can find my summary of the book here.
Fiction
Project Hail Mary
Project Hail Mary by Andy Weir (the author of The Martian) is the best sci-fi book I've read. Ryland Grace is an astronaut who wakes up in a spacecraft. He is alone, and his crewmates are dead. He is the sole survivor and the only hope to save the Earth. But there's a problem — he doesn't remember anything, not even his name, let alone why he's here on a spacecraft somewhere in space. This captivating story takes us on an unforgettable journey of interstellar travel filled with adventure, comedy, mystery, and thrill. Will he remember his mission? Will he save the planet? Will he get any help? The writing was witty and engaging, and the science & physics-related details discussed in the book were accessible. It's a mind-boggling page-turner that leaves the reader craving for more. I was torn between being unable to put this book down and not wanting to finish it.
Elantris
Elantris is a debut fantasy novel by the famous author Brandon Sanderson. Fantasy is one of my favorite genres, and Elantris was my first Brandon Sanderson novel. The book is set around Elantris, which was once a city of Gods. Ten years ago, a catastrophic event called the Reod happened, killing some of the gods and leaving the rest of them undead. They don't die, but they feel an unsatiable hunger; they have eternal pain if they get hurt, which leaves them craving death.
The story follows three main characters: Prince Raoden of Arelon, Princess Sarene of Teod, and the priest Hrathen of Fjorden. At the story's beginning, Raoden is cursed by an ancient transformation known as the Shaod, which makes him undead like the gods of Elantris. He is secretly exiled to Elantris just days before his betrothed, princess Sarene of Teod, arrives for their wedding. As Raoden tries to avoid gangs, keep his sanity, bear the hunger and pain, and unite the people of Elantris, Sarene must cope with the loss of her husband-to-be and try to save Arelon from Hrathen, a priest tasked with converting all of Arelon to the religion of Fjorden or dooming it to destruction.
All the characters in the story, irrespective of their significance, are well thought through. Sanderson builds a fantasy world with his extraordinary writing. The best part of a fantasy novel is to make the readers construct the fantasy world inside their heads, and I wanted to escape into the world of Elantris. The story is gripping and taunting, with twists and turns to keep the reader engaged. Enter the world of Elantris, and you won't be disappointed.
Shadow and Bone Trilogy
Shadow and Bone Trilogy is a fantasy novel series by Leigh Bardugo. It is set in the fictional universe called Grishaverse, where there is a sect of people called the Grisha, who are born with powers that could heal people, manipulate metal, elements, fire, etc. The country of Ravka is at war. The first army consists of regular human soldiers, and the second army consists of the Grisha. The humans generally hate the Grisha, who are forced to live in constant fear and criticism. The trilogy revolves around Alina Starkov, a soldier of the first army, and the Darkling, one of the most powerful Grisha in the world, who could summon darkness at will.
Filled with adventures, magic, pirates, twists, romance, guns, and deception, the plot thickens with every book and is gripping till the end. Shadow and Bone trilogy and the Six of Crows Duology (featured in my previous post) are both set in the Grishaverse and is now a Netflix Original Series.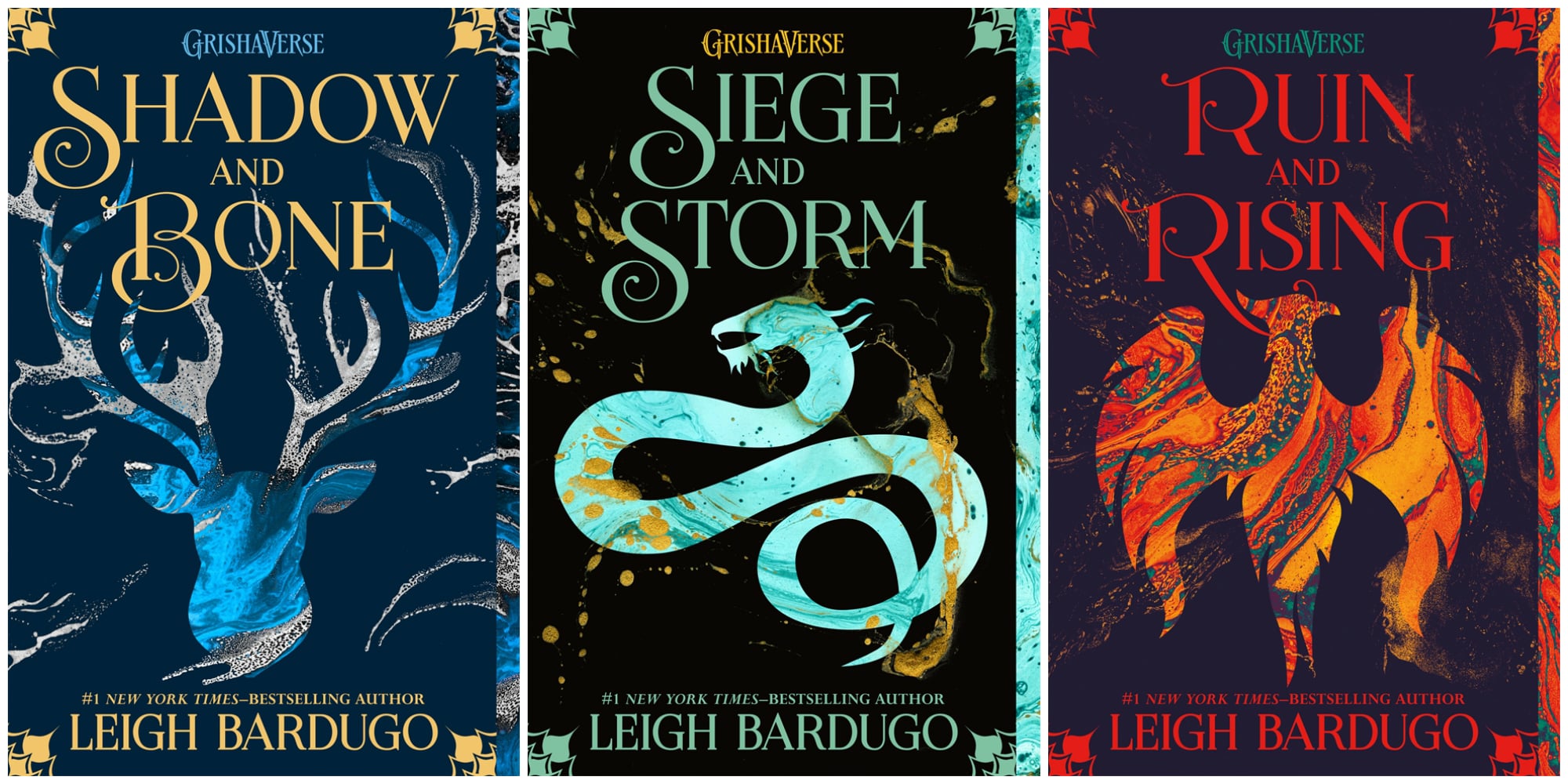 Normal People
Normal People, by Sally Rooney, is more than just a romance book. Set in Ireland, we encounter a complex relationship between two very different characters, Marianne and Connell, their fears, trauma, and friendship. Connell is famous in high school, while Marianne struggles to fit in. Connell struggles to cope with the changes when they go to college but soon learns that Marianne is popular. The story shows their friendship more than anything else, how they support and lift each other. The book is grounded in reality, and the writing is just immaculate. The book has also been adapted into a Hulu original series of the same name, and I heard that they had done a good job. It's a perfect vacation read.
Heartstopper
Heartstopper by Alice Oseman is a coming-of-age four-part graphic novel series that portrays the lives of high school students Nick and Charlie. Shy and softhearted Charlie Spring sits next to rugby player Nick Nelson in class one morning. A warm and intimate friendship follows, which soon develops into something more for Charlie, who doesn't think he has a chance. But Nick is struggling with feelings of his own, and as the two grow closer and take on the ups and downs of high school, they come to understand the surprising and delightful ways in which love works. The story is simple, but the format is different. It was my first graphic novel series and was different to consume. If you're a beginner who wants to get into reading, I recommend this graphic novel series or similar ones that give ease and visual appeal to readers.
So, there we go. These are my latest recommendations that I enjoyed reading, and I hope you found some that suit your interests. For more book recommendations, click here for my previous "Best of Books" post. If you're looking for tips to help cultivate a reading habit, click here for the post where I have outlined the information I learned and those that worked for me. If you'd like to follow me on Goodreads, click here. As always, thank you for reading. Peace out!